fatbike experience(R)
Experience with fat-bikes, bicycles suitable for floating on the sand, at the Lido of Venice.
It is not an athletic bike tour, let's go to discover the Lido of Venice and Pellestrina from another angle. Elegance of the "liberty" style of the Lido, the history of Malamocco and the seafaring traditions in Pellestrina, reached by the beach, a mix of visual and tasting emotions with the products and typical cuisine of the sea.
One-day bike tour, considered the stops for visits and refreshments, with wide panoramas near the Venice Lagoon and towards the Adriatic Sea. It is a circular route from Venice to the Lido and to the island of Pellestrina. Possibility of arriving near Ca'roman, of considerable naturalistic and landscape interest, obviously by the beach.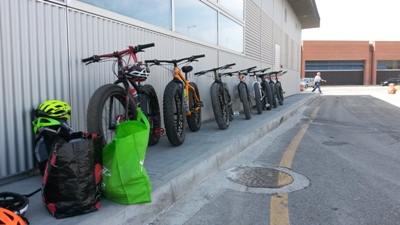 What we will do
Departure from Venice, with ferry-boat you reach "the golden island": Lido. You reach the most important places of interest on the beach. Along the lagoon and the sea, to discover hidden corners of the island, to head to the natural sand dunes. We take a new ferry-boat to reach the island of Pellestrina, an island of fishermen and the seafaring tradition can be seen and heard. Before stopping for lunch, a visit to the naturalistic area of Caroman, of considerable importance to wildlife.
We return to the same islands, but on different paths. A curiosity in Malamocco: a "piece" of Venice where you can ride a bike. Along low-traffic roads and following the Lido's channels we reach the embarkation for return to Venice.
Difficulty
distance km. 38/56 - difference in level 0
Roads with little traffic by car, stretches to a path and a short section of a dam. Suitable for children.
Where will we meet
The starting point is the ferry-boat pier.
https://goo.gl/maps/QpP9qdJyWVu
Isola Nova del Tronchetto - Venezia
What will I provide?
AIG2R professional bike guide, bike and helmet (mandatory), "cicchetti" tasting, hotel return shuttle.
What is available not included
Bike for under 14, "camel" or trailer (under 4 years). Lunch in a restaurant (better to book).
What the guests must bring
Waterproof jacket, clothing and footwear suitable for the environment, glasses, sunscreen.
Guest Requirements
Minimum age: 14years / h 1.50
Group: min. 3 max 14 participants
Prices per participant
bike tour € 110.00
under12 € 79.00
Under12 have reduced price and include "camel" and bike or trailer
ebike € 30.00
lunch € 25.00 (two courses including drinks)
pet trailer € 30.00
ACTV ticket € 20.00
You can book online with reduction
specify the bike tour code: ven007 - fatbike