sunset in venice
Exhilarating experience in the warm lights of the sunset in the Venice lagoon. Evening excursion to the island of Venice Lido, on request with the fatbikes for a short tour on the beach and on the sand dunes, to immerse yourself in the charm of the last lights. Fantastic view of Venice by night.
It is an itinerary of the "Fatbike Experience"  (R2015), on the beach or along the Lido cycle paths, to get excited and enjoy the last colorful sunbeams.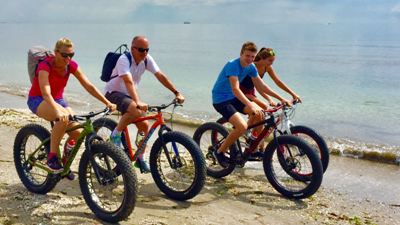 A relaxing bike tour full of surprises, with a pleasant stop for a quick tasting in the colors of the sunset and the return by night-time ferry-boat with illuminated Venice.
What we will do
Departure from Venice, with ferry-boat you reach the island of Lido di Venezia. We will follow alternate stretches on the side towards the sea, towards the Venice lagoon and eventually on the sand with the fatbikes. We will arrive to the most southern point of the island to contemplate the sunset from the sand dunes or from the terrace of a restaurant for tasting of typical products.
Difficulty
distance km. 28 - difference in level 0
Roads with little traffic by car, stretches to a path and a short section of a dam. Suitable for children.
Where will we meet
The starting point is the embarkation of the ferry-boat.
https://goo.gl/maps/QpP9qdJyWVu
Isola Nova del Tronchetto - Venezia
What will I provide?
Professional bike guide AIG2R, bike (fatbike) and helmet (mandatory), tasting of "cicchetti", Shuttle round-trip hotel
What is available not included
Bike for under 14, "camel" or trailer (under 4 years). Cicchetti tasting. Ferry-boat ticket.
What the guests must bring
Windproof jacket, clothing and footwear suitable for the environment, glasses, mosquito repellent.
Guest Requirements
Minimum age: 12/14 / h 1.50
Group: min. 3 max 14 participants
Prices per participant
bike tour € 89.00
fatbike € 10.00
under12 € 69.00
Under12 have reduced price and include "camel" and bike or trailer
ebike € 30.00
animal trailer € 30.00
You can book online with reduction price
specify the bike tour code: ven002 - tramonto venezia