italian lifestyle
Experience on board a "vespa", the scooter of my youth. Prosecco hills seen from another angle.
A different experience, always on two wheels, with a symbol of Italy. A lunch with typical cuisine, to discover hidden corners of the hills of Conegliano and Valdobbiadene.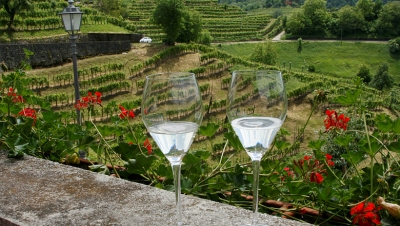 A nice tour among the rows of Prosecco, with visits to our friends in famous cellars and tasting of the noble wine. Lunch in a renowned restaurant, with a view, scent and taste dedicated to prosecco and the typical cuisine of the hills.
What we will do
Departure from Serravalle and via the streets with little traffic to discover hidden corners of the Prosecco hills. Lunch in a restaurant and then still around with the wasp. Stop in the cellar.
Difficulty
Roads with little traffic by car.
Where will we meet
The starting point is the square of Serravalle.
https://goo.gl/maps/QpP9qdJyWVu
Via A. Cantore 2 - 31029 - Vittorio Veneto TV
What will I provide?
AIG2R professional bike guide, "vespa" and helmet, lunch, hotel return shuttle.
What is available not included
Visit with tasting in the cellar (better to book).
What the guests must bring
Waterproof jacket, clothing and footwear suitable for the environment, glasses, sunscreen.
Guest Requirements
Minimum age: 18 years and driving license in good standing with CdS.
Group: min. 4 max 14 participants
Prices per participant
bike tour € 149.00
wine tasting € 25.00

You can book online with reduction
specify the bike tour code: pro002 - vespa